Vice-foreign minister says Pyongyang will conduct nuclear test when it sees fit as China appeals to US to avoid pre-emptive strike
North Korea's vice-foreign minister blames US for tensions – video
North Korea has accused
Donald Trump
of raising tensions in the region and warned that the regime would conduct a nuclear test when it sees fit, as China issued a plea to Washington not to use pre-emptive military action.
In an interview with the Associated Press in Pyongyang, North Korea's vice-foreign minister, Han Song-ryol said Trump's "aggressive" tweets aimed at the regime were "causing trouble", adding that the mounting crisis on the peninsula was now locked in a "vicious cycle".
Han warned that
North Korea
would not "keep its arms crossed" in the event of a US pre-emptive strike.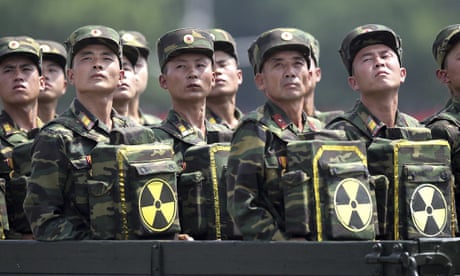 North Korea preparing for nuclear test, satellite images suggest
China
issued a plea against military action in North Korea before an anticipated sixth nuclear test on Saturday to mark the birth of the country's founder, Kim Il-sung.
Speaking in Beijing, China's foreign minister, Wang Yi, said a return to the negotiating table was the only way to avert a crisis. "Military force cannot resolve the issue,"
he said, according to Reuters. "Whoever provokes the situation, whoever continues to make trouble in this place, they will have to assume historical responsibility."
Speaking in Beijing on Friday, foreign ministry spokesperson Geng Shuang said China had noted the statements coming out of Pyongyang and was closely following North Korea's moves.
Geng said China urged"all parties" to avoid taking steps that might further inflame "a very sensitive and complex situation".
"Such actions would be very dangerous and very irresponsible," he warned.
Experts believe Pyongyang is preparing to defy Donald Trump by
carrying out a missile launch or nuclear test
to coincide with the so-called Day of the Sun on 15 April. Scores of foreign reporters have been allowed into Pyongyang to cover celebrations marking the105th anniversary of Kim's birth, but they have not been granted access to military-related sites.
Writing in the Global Times, a Communist party-controlled tabloid, one Chinese scholar
urged Trump against carrying out a Syria-style bombing campaign against North Korea
. "North Korea is not Syria. It may have the ability to strike South Korea and Japan with nuclear weapons," Li Jiacheng, a fellow at Liaoning University in north-eastern China, said.
"If the US makes a pre-emptive strike on North Korea, Pyongyang will attack South Korea, Japan and the US forces stationed in the two countries," Li warned. "What's more, the war will not be a blitz but a protracted one, which will require a lot of energy from the countries involved."
"In the current situation, [the] possibility is still low that the US will initiate a war on the peninsula," Li added. "However, because of Trump's unpredictability, it is difficult to predict his policy toward the region."
On Thursday Trump, who has previously accused Beijing of failing to rein in its North Korean ally, said he believed China was now prepared to act. "I have great confidence that China will properly deal with North Korea. If they are unable to do so, the US, with its allies, will!" he wrote on Twitter.
However, despite
signs of warming ties between the US and China
, experts doubt the relationship is sufficiently sturdy for definitive collaboration on North Korea.
Steven Weber, an international relations specialist from the University of California, Berkeley, said: "If you want regime change in North Korea then you have got to have a plan for how to manage that on the other side of the collapse – and that requires a long-term collaborative relationship between the Americans and the Chinese to make sure that whatever happens, and however that reconstruction emerges, is acceptable to both sides."
"I don't think we are anywhere near a place right now where either side trusts the other to a depth that you believe that you could sustain and maintain that kind of relationship for that long a period of time."
The rise in tensions came ahead of the arrival in South Korea on Sunday of the US vice-president, Mike Pence, who will also visit Japan, Washington's other key ally in the region, early next week.
Previewing Pence's trip, a White House foreign policy adviser said: "We're going to consult with the Republic of Korea on North Korea's efforts to advance its ballistic missile and its nuclear program."
Seoul and Tokyo are considered at greatest risk of a North Korean counterattack in the even of a pre-emptive strike by the US. On Thursday, Japan's prime minister, Shinzo Abe, warned that North Korea may be capable of attacking the country with a missile loaded with sarin nerve gas – the same substance used in a deadly attack on the Tokyo subway by a Japanese doomsday cult in 1995.
North Korea appears to have resumed the use of cold war scare tactics with the radio broadcast of indecipherable code that could be used to communicate with its spies in the South. Radio broadcasts containing a combination of mysterious random numbers were picked up in South Korea on Friday, according to Yonhap news agency.
Some experts in South Korea said the use of radio broadcasts – a common means of issuing orders to agents during the cold war – was outmoded and could instead be intended to raise tensions. The state-run Pyongyang Radio began broadcasting the messages early on Friday, with an announcer reading out a series of numbers and page numbers.
The radio announcer referred to the numbers as "review works in elementary information technology lessons of the remote education university for No. 27 expedition agents", according to Yonhap.
North Korea ended broadcasts of encrypted numbers after tensions with South Korea eased following a historic inter-Korea summit in 2000.
Their resumption last June
is seen as a reflection of how far relations have deteriorated.
Yonhap said Pyongyang Radio had made 32 such broadcasts since June last year, most recently last weekend. With agents based the South now able to communicate with their handlers via the internet, the use of numbers, which they would then decipher using a reference book, appears outdated.