North Korea 'building mysterious artificial islands' apparently equipped with military installations
Satellite imagery suggests potential for missile launches, air defence or even civilian activity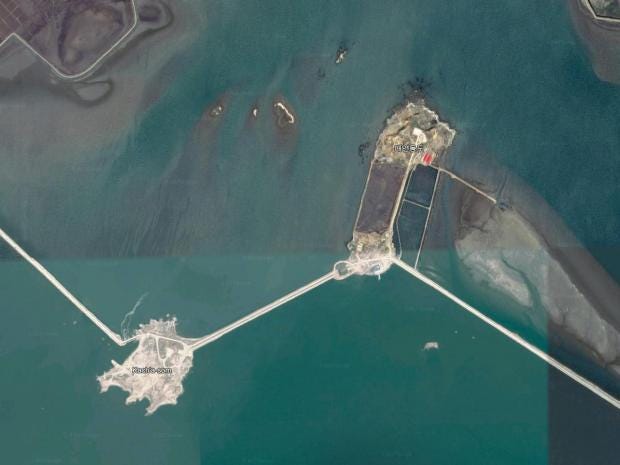 North Korea
is building up islands in the Yellow Sea and may be preparing them for installation of military hardware, analysts have claimed.
A string of islands near the Sohae satellite launching station, north-west of Pyongyang, have been beefed up with buildings, extra concrete areas and wide roads over a period of several years, according to reports.
Sohae has been used to launch satellite-bearing rockets but also, earlier this year, to test a new engine for an intercontinental ballistic missile.
Analysts suggested construction work on the nearby islands, some of which are linked to the mainland by causeways, may allow North Korea to launch missiles there or install defensive anti-aircraft weaponry. Some of the islands may have been built from scratch, it is thought.
A researcher from the Strategic Sentinel geospatial analysis company, writing in
The Diplomat
, said drawing definitive conclusions was difficult because evidence is limited.
They said: "An offensive ballistic missile deployment makes little sense, and the available pictures are missing some of the infrastructure indicative of one.
"An air defence deployment makes more sense, but there still isn't enough evidence to support the presence of necessary infrastructure.
"A third option, that some of the structures pictured are missile silos, would make some logistical and strategic sense, and the surface-level infrastructure does look quite similar."
The sites may be intended for dual civilian and military use.
Strategic Sentinel's chief executive, Ryan Barenklau, told the
LA Times
: "They have observation areas for someone like Kim Jong-un to observe a missile launch.
"Every time we see VIP buildings, that tells us there's most likely a military application, because Kim Jong-un likes to view the operations of whatever they're building."
It comes as US Secretary of State Rex Tillerson announced his country had prepared new sanctions against the North.
He said the US would take action against countries failing to fully implement existing United Nations penalties on doing business with Pyongyang.
The Donald Trump administration has urged China, North Korea's only major ally, to do more to rein in its neighbour's nuclear and missile programmes, warning that the "era of strategic patience" is over.
China called on all parties in the Korean standoff to remain calm and "stop irritating each other". It followed military exercises by both North and South Korea, as well as the US, after a period of tense rhetoric.
Mr Trump has said he would be willing to meet Mr Kim and Mr Tillerson signalled Washington was seeking diplomatic talks to curb Pyongyang's nuclear ambitions.
Get link
Facebook
Twitter
Pinterest
Google+
Email
Other Apps
Get link
Facebook
Twitter
Pinterest
Google+
Email
Other Apps